Interactice magazine posts about ME, BOYS STUFF, EXCITING LINKS, COMPETITIONS, SOPHIE, SHOP, FAB LIFESTYLE, BEAUTY and FASHION.
Thursday, 2 July 2015
Vegetarian Hampers From Hampergifts.
New Voucher Code From Hampergifts
Hampergifts are pleased to announce a brand new voucher code, giving you
5% off all hampers
throughout July! Just enter the code
JULHAMP
at the checkout to receive your discount.
Code – JULHAMP
Promotion – 5% Off All Hampers
Expires – 31/07/15
Each of these gifts are suitable for Vegetarians (but sadly not for Vegans). Do check ingredients for alcohol.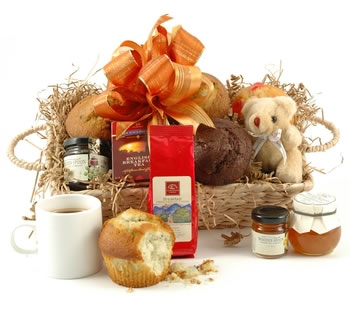 Treat someone to breakfast in bed in style! This charming breakfast hamper is crammed with treats including tea, fresh ground coffee, a pair of marmalades - including tangy grapefruit & lime and a medal winning whisky marmalade - a deliciously sweet plum, pear & apple jam plus four moist, mouth-watering muffins!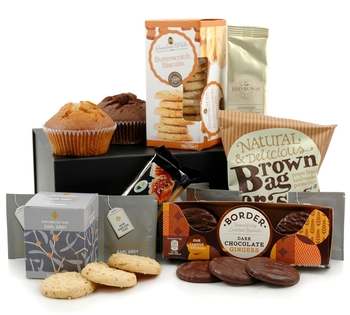 Anytime's a good time to take a break with a cuppa! Our tea and coffee hamper contains a subtly-flavoured Assam Tea and a full-bodied fresh ground breakfast coffee. We've also included a range of perfect tea-time (or coffee-time) snacks! You'll have trouble deciding between cherry & coconut and honey flapjacks, an indulgent double chocolate muffin and the incredibly tasty cookies. Or for a smaller snack, how about the delicious chocolate-coated macadamias? All these items come carefully arranged in a classy box with magnetic fastener, which you can reuse again and again.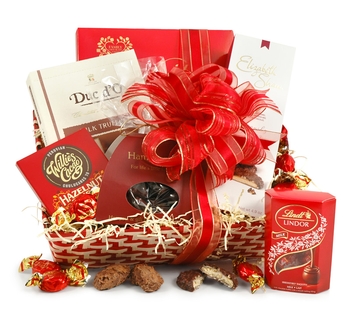 This beautiful chocolate hamper contains a mix of well-known and boutique chocolate treats. Dip into cappuccino chocolate sticks, or enjoy the white chocolate cookies, Swiss truffles, caramels, chocolate almonds and the unique chocolate stones. Although not just for chocoholics, this gift will certainly keep them happy! Also featuring an adorable baby teddy bear our excellent value hamper is crammed full of delicious items presented in an attractive basket & gift wrapped with ribbon.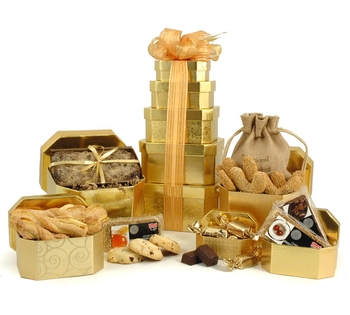 You've never had cookies and cake like this before! Five gorgeous stacked boxes open to reveal a tempting selection of cookies, biscuits and cakes. Delving into the boxes you will discover pair of delicious Flapjacks, a large family sized Fruit Cake, Chocolate & Hazelnut Cookies, Honey Biscuits and more. The lucky recipient of this tower won't have any idea what's inside! If you like to grab attention when you give a food gift, our pile of cookies & cakes should do the trick.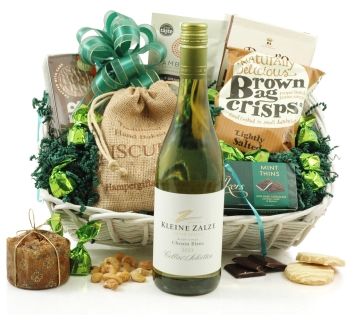 Wine hampers don't come much better than this. With a sumptuous Spanish white, plus a range of premium biscuits, chocolates and cake this wine basket is all you need for an impromptu dinner party. But that's not all: like all our wine hampers it comes elegantly gift wrapped by hand - with a personal message. Show a wine lover you care, and order them the Emerald as a special surprise.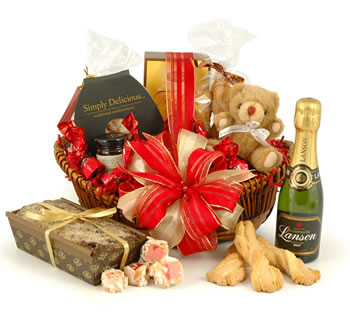 Sometimes you need something special to say thank you, you're special or to celebrate a special occasion. Our Champagne Surprise hamper sends just the right message. Pop open the miniature Lanson Black Label bubbly and tuck into the truffles, family-sized fruit cake and other sweet surprises that we've matched to the luxurious champagne. Beautifully hand tied with ribbon, this is a great value champagne gift with that extra touch of luxury.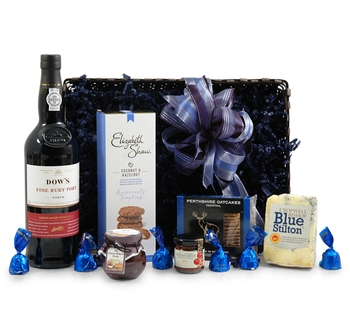 Simply a classic, this Port & Stilton hamper is a cut above the norm. The generously sized Blue Stilton wedge is from the famous Cropwell Bishop creamery. Possessing a velvety-soft texture, it's melt in the mouth delicious and will go perfectly with the Fine Ruby Port. The port is soft, rich and well balanced - perfect for an after dinner drink. You'll also find a trio of chutneys and pickles which will complement the parmesan oatcakes and the moreish tomato & sesame savoury biscuits. The gift is finished with a flourish of blue ribbon.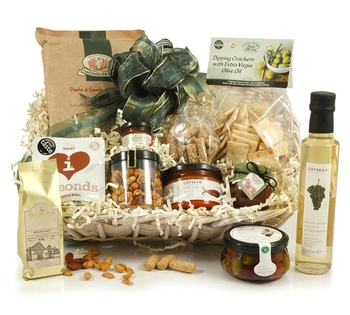 Some people have a taste for sweet things, others have a more savoury palate. This food hamper is ideal if you have friends, family or colleagues who fall into the second category. A beautiful food gift, it includes everything from Crackers, Mustard and Chutney to Nuts, Biscuits and Olives. It's one of our classic savoury food hampers - marvellously presented in a gift wrapped basket & guaranteed to be remembered by any food lover.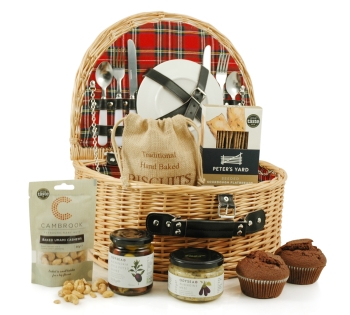 This luxurious picnic hamper includes everything you need for a delicious outdoor feast. You'll love the carefully chosen mixture of snacks and treats, and you'll appreciate the cutlery and crockery which is included. It sure beats paper plates! The hamper itself is a sturdy wicker basket with a retro look, concealing a variety of edible delights. If the weather looks good and you need a picnic hamper fast, call us to see if we can arrange next day delivery.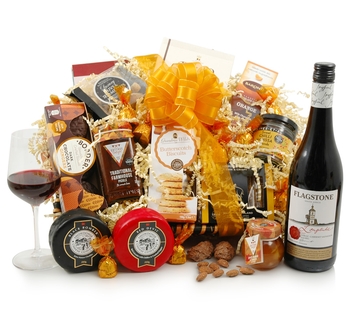 This sumptuous luxury wine & cheese hamper is perfectly suited for any occasion. A pair of classic award-winning cheeses are accompanied by an outstanding South African Merlot and a perfectly picked selection of other delights. Among the foods we've included some Gold Medal winning gems like a Spicy Mango & Ginger Chutney, a superb Cheese Maker's Pickle and the excellent Parmesan & Pepper Oatcakes. One of our most popular wine and cheese hampers - this is just the thing for corporate clients, friends or family.





If its a hamper a little upmarket that you are looking for then click here

HARRODS
SUNNA Its that time of the year again , fasting has come to an end & eid celebrations comenced. I wonder who enjoyed the celebrat...

PUSHING FORWARD Its hard to believe that children are going hungry even in this country.  If you can determine the children which...